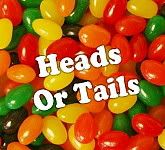 This week's theme for Heads or Tails Tuesday is "Tool". As in, you could call me a tool because I am totally posting a meme inside a meme. Or as in, this week, I will be using a meme as a tool to actually post something that may entertain you and will tell you a little bit about me. Because I have 9 articles due tonight (mostly done, but need touching up), and because I have been coughing this awful weird dry cough all day and am afraid I'm getting sick and because I'm starving and want to make dinner. So, here it is.
Kori
tagged me for this "Lighten Up" meme, with just about perfect timing. Come, read on, and get to know me a little better!
1. What is your current obsession?
Pineapple. I have been totally obsessed with it this spring/summer. Also, So You Think You Can Dance. I looooooove it.
2. What is your weirdest obsession?
In the kitchen and bathroom, I hate it when the things that are supposed to be against the walls are pulled away from the wall and not put back after use. I think that's sort of weird, and my husband doesn't get it at all. I also don't think it's too weird, but my obsession with checking e-mails/google reader/facebook on my blackberry? Way out of control.
3. Recall a fond childhood memory?
Hmm... I have a lot of good memories from being a kid, so it's hard to just pick one. Let's see... Having The Hobbit read to me and my sister by my stepdad - he has a great reading voice and would read to us at bedtime. Riding in the back of his big orange pick up truck. The Girl Scout meeting where we made butter in mason jars. Visiting my Dad in Denmark the summer he worked there when I was 9 or 10 and eating pizza at the train station.
4. What's for dinner?
All I know is I am about thisclose to ordering some pizza. I gotta talk to my husband first though.
5. What would you eat for your last meal?
An entire pepperoni pizza with triple cheese from Marrone's in Ardmore, PA.
6. What's the last thing you bought?
Last night I stopped at the store and bought 12 packs of Cherry Coke Zero, Diet Cherry 7-Up and a bag of M&Ms for my husband.
7. What are you listening to right now?
I'm watching the 4th episode of 'Castle' and listening to it.
8. What do you think of the person who tagged you?
I think she is totally awesome, and I can't wait to meet her... someday!
9.If you could have a house totally paid for, fully furnished, anywhere in the world, where would it be?
That is actually a hard question. I think that I'd have to say near my family, and I'd probably stay in Bellingham, but I'd love to live in Fairhaven on the hill in a nice house. Although, I could use this as an opportunity to have a 2nd house somewhere in addition to the one I already have. In which case, I'd probably have it be in England, near London so I could travel in Europe.
10.If you could go anywhere in the world for the next hour, where would you go?
For an hour, huh? I would go to my friend Violet's house and chat for a little while.
11. Which language do you want to learn?
I would like to learn Spanish because I think it would be really useful.
12. What's your favorite quote (for now
)?
"Do you know what the chain of command is here? It's the chain I go get and beat you with to show you who's in command."
If you know what it's from, then you are awesome.
13.What is your favorite color?
Blue. And it doesn't hurt if there are sparkles involved.
14. What is your favorite piece of clothing in your own wardrobe?
Hmmm... I really like these denim pedal pushers I have that have a flower stenciled on the side. I also really like my sweater tank that is sort of a rusty orange with gold threads woven in.
15. What is your dream job?
Dream job? Hm. Broadway star.
16.What's your favorite magazine?
Entertainment Weekly. I also have a subscription to The Economist that my Dad gave me, and I used to subscribe to US Weekly, but didn't renew this time b/c of cost.
17. If you had $100 now, what would you spend it on?
Maybe a new pair of shoes. I haven't bought shoes in sooooo long because I technically don't NEED any more.
18. Describe your personal style?
In what way? I guess I'd say laid back, but neat.
19. What are you going to do after this?
Finish watching this episode of Castle then go to bed.
20.What are your favorite films?
The Day After Tomorrow, Grease, Sliding Doors, Bride & Prejudice, Jurassic Park, Dogma, Once
21. What's your favorite fruit?
Pineapple
22.What inspires you?
Hearing stories of people who have faced great adversity and overcome it, people who have survived and thrived, and broken the cycle. Seeing the love it's possible for people to have for one another, and how a community can support and lift up it's members.
23. Your favorite books?
The Mists of Avalon by Marion Zimmer Bradley, The Time Traveler's Wife by Audrey Niffenegger, the Homecoming series by Orson Scott Card, A Widow for One Year by John Irving, Jurassic Park by Michael Crichton, The Hot Zone by Richard Preston, anything by Laurel K Hamilton, the Sookie Stackhouse books by Charlaine Harris
24. Do you collect anything?
Books and unicorns. I have over 200 unicorns, figurines, books, plates, jewelry, stuffed things, albums, artwork, and even 2 tattoos.
25. Any advice that's some from bitter experience?
I really really try hard not to be bitter or have regrets because it's a waste of your current life. My best life advice? Live for the moment, live for the future, but not for the past you can't change.
26. What makes you follow a blog?
Could be different things. Usually if I relate to the person, or if they crack me up. Or if they are an amazing and inspiring personality or writer.
There are rules to this meme, the only one I know from Kori is tag 4 other people. So... I tag
Dawn
,
Michele
,
Chris
&
Megan
, because I want to hear their answers!
For more Heads or Tails Tuesday posts,
click here
.