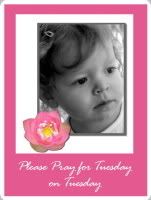 If you read many blogs, you've probably seen this already. If not, here it is. There is a little girl named Tuesday, and you can
read her story here
. She is only two years old. The same age as my son.
Tuesday is dying. She was diagnosed with cancer last summer, and her family just found out that it's too advanced, it's not responding to treatment. It was time to take Tuesday home to be with her family in her final days.
Two is too soon. No one should be having their final days at two. No mother should watch her toddler fade away. It's almost too painful to write.
So as I sit here with tears streaming down my face for Tuesday, I will pray for the only thing I can. Comfort for her family. Comfort and love for her in her final days.
And I will be thankful for what I have.
Please pray for Tuesday.